The General Assembly is composed of all the members. It shall meet at least once per year.
Sean O'Donoghue & Christine Absil
Among others, the General Assembly shall:
Approve the annual report, including the financial statements, the annual strategic plan and the budget for the next year.
Establish fees to be paid by members as proposed by the Executive Committee.
Elect the chair of the MAC and the members of the Executive Committee.
Approve sale or disposal of assets of the MAC approve changes of Statutes and amendments Rules of Procedure.
Approve dissolution of the MAC.
At proposal of the Executive Committee launch the procedure for loss of membership as defined in Article 14 of the Statutes of the MAC.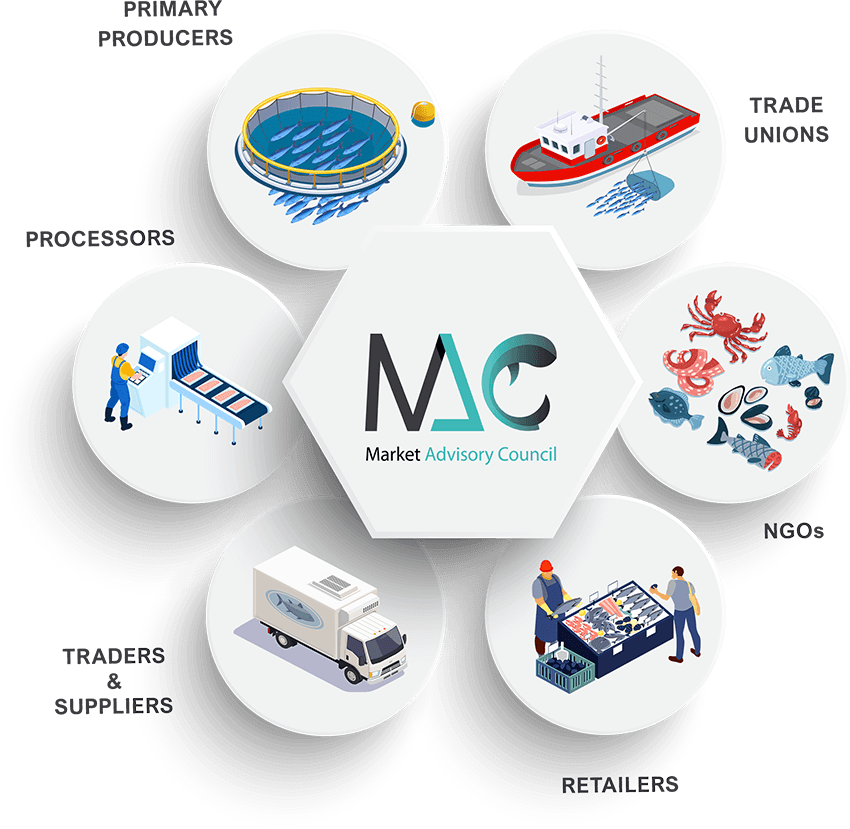 The Executive Committee is composed of up to 25 members, appointed for a period of three years. It meets at least twice a year.
Sean O'Donoghue & Christine Absil
40% - Other Interest Groups
The Executive Committee shall, among others:
Exercise the powers of the MAC
Decide upon general policy
Be responsible for the preparation and forwarding of advice on markets to the appropriate bodies
Prepare the annual report, the budget for the next year, the work programme for the next year
Consider the auditors' report
Members of the Executive Committee 2020-2023
Working Groups are established to facilitate the work, particularly the consideration of topics and the drafting of advice.
Chair:
Sean O'Donoghue
Vice-Chair:
Pim Visser

Common Markets Organisation and the European Maritime and Fisheries Fund (2014-2020).

Evaluation of first sale trends.

Impact of recovery plans on markets.

No-commercialization of undersized fish/juveniles in the context of new technical measures regulation and discard ban implementation.

Promotion and competitiveness of products.
Chair:
Pierre Commère
Vice-Chair:
Agnieszka Korbel
Supply (annual status and trends).

Trade with third countries: Community Custom Code, General System of Preferences (GSP), Free Trade Agreements, Economic Partnership Agreements, World Trade Organisation.

Monitoring of community imports and tariff situation, regulation of suspension and tariff quotas for fishery and aquaculture products.

Promoting social and environmental aspects of the international trade in fishery and aquaculture products.

Analysis of consumption trends.

Price developments 'from sea to table' (from the fisherman to the consumer) – Studying market efficiency and diversity in the Member States, inter alia, using data from EUMOFA.

Effects of the IUU regulation on the market.
Chair:
Benoît Thomassen
Vice Chair:
VACANT
Labelling issues

Voluntary information on fish products

Hygiene Regulation implementation

Relevant contaminants legislation; additives and residues issues

Traceability of seafood products

Food fraud

Implementation of IUU Regulation-issues other than tackled by WG2

Possible revision and implementation of the Control Regulation when related to trade and markets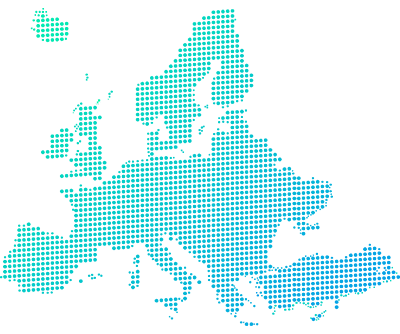 Focus Groups may be established to prepare preliminary input for the Working Groups on specific questions or issues.
Chair:
Norah Parke

Members:
CRPMEM
DFPO
VisNed
German Fishermen Association
EMPA
Visfederatie
PSPR
ISWFPO
Chair:
Pim Visser
Members:
OPESCAYA
EAPO
Europêche
DPPO
EMPA
EMPA
ANFACO-CECOPESCA
AIPCE
CONXEMAR
ANCIT
Visfederatie
MSC
WWF
Chair:
Pierre Commére
Members:
CFFA
Europêche
WWF
AIPCE
Visfederatie
EMPA
ANFACO-CECOPESCA
OPPC3
FEAP
EAPO
Chair:
Poul Melgaard Jensen
Members:
EAPO
Visfederatie
AIPCE-CEP
MSC
Danish Seafood Association
WWF
Oceana
Chair:
Georg Werner

Members:
Europêche
EAPO
FEAP
FEDEPESCA
Bundesverband der deutschen Fischindustrie und des Fischgrosshandels e.V.
EuroCommerce
ETF
MSC
Oceana
MSC
WWF
Danish Society for a Living Sea
Moderator:
Pedro Reis Santos

Members:
EAPO
APROMAR
FEAP
ADEPALE
European Fishmeal
MSC
Good Fish
The Secretariat is responsible for and leads the daily work of the MAC. It is appointed for three years terms.
Pedro holds a Bachelor degree in Law and a Master's degree in International Law and International Relations from the University of Lisbon with a thesis titled "Marine Protected Areas beyond National Jurisdiction".
Before his appointment, in July 2019, as Secretary General, Pedro worked as a consultant for a Brussels-based business intelligence service monitoring EU developments on fisheries, agriculture, food, animal welfare, alcohol and tobacco policy.
Prior to that, he was a trainee at the Fisheries Unit of the Council of the European Union and a trainee at the Control Unit of the Portuguese Fisheries Authority.
Besides his first language, Portuguese, he speaks English and Spanish.
Panos holds a Bachelor degree in Business Administration from the University of West Attica, a Master's degree in Project Management from the City University of Seattle, and an executive MBA degree from Solvay Brussels School.
Panos has been the Financial Officer for the Market Advisory Council since its establishment. Before that, he worked as a Finance Officer for an international NGO based in Lisbon.
He started his career as accountant for a multinational company, where, after a few years, he moved to the international audit team, performing cash reconciliations and risk management.
He speaks Greek and English.
Alexandra holds a Bachelor degree and a Master's degree in Political Science from the Université Libre de Bruxelles as well as a Master's degree in European Affairs from the College of Europe in Natolin.
Before starting as Administrative Officer, Alexandra worked for eight years in the European Parliament, mostly as accredited parliamentary assistant to the Chair of the Committee on Fisheries.
She speaks English and French.